Hi friends!
What do you think – is PHP sexy or not?
At next DevClub.lv event organised together with PHP Baltic meet-up you will have chance to see how you can make cool things with the help of PHP.
Please pay attention that this time we meet at Vienības gatve 109 (Unity Biznesa centrs) 1.st floor at 27th August 18:30 and be ready to stay for Afterparty at the roof terrace (same building) at Intexsys office and win GoPro HERO4.
Agenda for PHP focused 34th DevClub.lv:
Vitor Silva from Arrobacasa will talk about "Cooking with Yii2: Rapid Development".
The speed of change is constantly accelerating. A development team needs tools and methodologies that enable rapid development, product and features prototyping. What if I told you that there is a tool that enables best coding practices, favours convention over configuration, makes your product testable and flexible, is easy to deploy and has a logarithmic learning curve? Join us and let's have a peek in to this full stack web framework and see what makes it stand out and how you can benefit from it.
(Language — English)
Tags: Rapid Development, Code Generators, MVC, Web Development, Code Productivity, End to end Testing.
Vitor Silva – Web Developer, Yii framework contributor, Worked with different code flavours in search of the best web development ingredients.
Janis Sakars from Accenture will talk about Symfony2
Nowadays frameworks are almost de-facto when it comes to PHP development. There is no best or worth way of doing with one or another framework but obviously each of them can help us in certain situations. Let`s take general overview of Symfony2.
(Language — English)
Tags: PHP, Frameworks, Symfony
Janis Sakars – Senior Analyst, 8 year experience in PHP working on various projects across the globe.
Konstantin Tjuterev from Intexsys will give a talk "PHP + X = Love"
Nowadays, PHP is by far one of the most widespread programming languages, powering world's largest websites. However, it wouldn't be possible with PHP alone.
In this talk, I'll showcase how to use PHP along with other modern technologies, based on our experience in developing and running large-scale web projects. At Intexsys, we always strive for using the right tool for the job, and during the years, we have integrated PHP with technologies such as Elasticsearch, RabbitMQ, Varnish, Node.js, Phing, PhantomJs and others. A high-level overview with particular use-cases will be provided during this short talk (aprx 20 min).
(Language — English)
Konstantin Tjuterev is the founder and CEO of Intexsys. With more than 15 years' experience in web-development, he specializes in E-Commerce and Business automation.
GoPro HERO4

lottery!
Our sponsor, Intexsys will give away one GoPro HERO4 Silver camera during the conference! In order to get a chance to win this fabulous camera, all you have to do, is register for lottery. The registration is already open, but you need to be present at the event in order to win the prize.
AFTERPARTY at the roof terrace (same building) at Intexsys office with Nice people, Free beer and snacks! Everyone is invited!
Accenture is looking for PHP Developer.
Clusterpoint is hiring UI (back-end) Developer.
Intexsys is looking for PHP Developers and Microsoft SQL Developers.
Game Insight is looking for:
– C++ Game Developer,
– Unity Developer,
– Game Server Developer,
– Game QA/Producer.
Check out career opportunities at Autentica!
Evolution Gaming – world leading on-line Live casino provider is looking for front-end and server side IT professionals for new game and feature development. We are providing excellent work conditions, challenging projects, friendly and professional colleagues.
– JavaScript/HTML5 Developer for Mobile Games,
– Scala Developer
and more positions you can find at the same page by scrolling down.
Now Evolution Gaming is located in the A+ class office building in the very heart of the Riga – Citadeles iela 2.
Check out ALSO Cloud product and join their Dev Team at Riga!
Thanks to our sponsors we are able to make DevClub.lv events and have some drinks and snacks: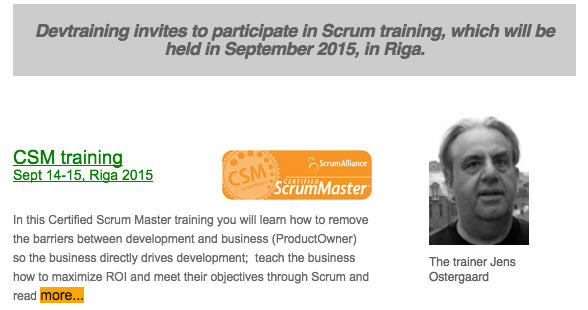 Contact Edgars@DevClub.lv to get special prices for DevClub.lv members