Hi friends!
Are you proud of your code? Are you sure, that your code won't break? Don't waste it, test it! Go and automate it!
Come to learn from others to Test Automation focused 35th DevClub.lv at 17th September 18:30, Zaļā iela 1, 4th floor (Microsoft Latvia office)
Agenda for Test Automation focused 35th DevClub.lv:
Risko Ruus from Rush Street Interactive will talk about "Tips for building a framework for automated functional testing of web applications".
Over time Selenium has become the de facto standard for automated UI testing of web applications. When the time comes to write such tests for your project there will be a need to create a framework around it. During this talk I will share some tips for organizing your framework and getting more benefit out of your tests beyond simple checks.
(Language — English)
Tags: Selenium, Selenide, Test Automation, End to end Testing
Risko Ruus – Quality Assurance Lead, 8 years of experience in Quality Assurance and Test Automation for Nokia, Playtech, Skype and now at RSI.
Dmitry Balabka from Intexsys will talk about "Testing automation with PhantomJS"
Testing is a very time-consuming task and it requires automation to reduce costs and regression issues. I will share our experience on test automation and will tell you how we reduced the test execution time 10x.
You will hear about tools that helped us achieve this goal: PhantomJS, Selenium, WebDriver, Behat, Node.JS
(Language — Russian)
Tags: Selenium, PhantomJS
Dmitry Balabka – with more than 8 years WEB developing experience for different business spheres. Current occupation is Software Architect at Intexsys, working on large E-Commerce project.
Alex Shirov from innoWate will give a talk "Testing Automation in Games"
Developing built-in testing capabilities with configurable bots that test almost every aspect of the in-game experience.
(Language —Russian)
Tags: Testing, Automation, Bots, GameDev
Alex Shirov has more than 15 years of experience developing and operating worldwide AAA hit games. Having begun in the games industry as a C++ developer at CTXM, he is now charged with guiding teams of experienced games production talent as CTO at innoWate. Alex is credited with engineer or lead engineer roles on dozens of game titles, from Xbox to Xbox 360, social games to fully cross-platform mobile titles.
Check out ALSO Cloud product and join their Dev Team at Riga!
Accenture is looking for Test Automation and Performance Test Engineer.
Clusterpoint is hiring UI (back-end) Developer.
Intexsys is looking for PHP Developers and Microsoft SQL Developers.
Game Insight is looking for:
– C++ Game Developer,
– Unity Developer,
– Game Server Developer,
– Game QA/Producer.
Check your career opportunities at Autentica!
Evolution Gaming – world leading on-line Live casino provider is looking for front-end and server side IT professionals for new game and feature development. We are providing excellent work conditions, challenging projects, friendly and professional colleagues.
– JavaScript/HTML5 Developer for Mobile Games,
– Scala Developer
and more positions you can find at the same page by scrolling down.
Evolution Gaming is located in the A+ class office building in the very heart of the Riga – Citadeles iela 2.
Thanks to our sponsors we are able to make DevClub.lv events and have some drinks and snacks: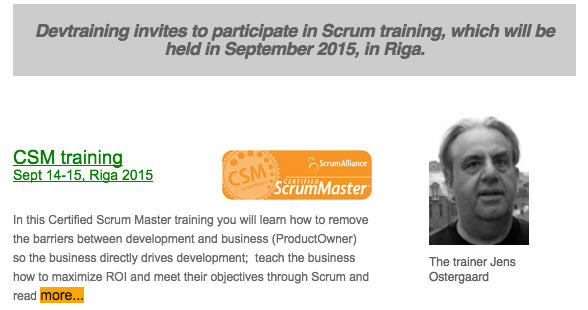 Contact Edgars@DevClub.lv to get special prices for DevClub.lv members

Contact Edgars@DevClub.lv to get special prices for DevClub.lv members